Recently I've changed how I train ever so slightly. From being focused on intervals, distances, and training times I've started to focus on variation in terms of where and how I train. Just yesterday it really hit me how phenomenal the Strava Segments are at enabling this. With this my 5 reasons I train better with Strava Segments – and why you could too:
1. Trying out New Routes
Human beings are generally creatures of habit. By following segments, you get to know parts of your local area where you might never have gone otherwise. This works particularly well for densely populated areas and in countries where Strava has a strong user base. For instance it might not work so well in Endomondo-stronghold of Denmark. Strava, slightly more popular than Endomondo, judging by this Google Trend, is way behind the same competitor in Denmark, according to this trend.
2. Attempting Your Best at Very Different Distances
Segments come in all sorts of shapes and sizes. I have tested myself on segments ranging from just a very short sprint to long distance endurance segments. By competing on different distances your body becomes more versatile, and you essentially race yourself fit against the often overwhelming amount of other users of the Strava service.
3. Keeps You Coming Back
If you're even the slightest competitive, the natural reaction to a Strava notification that says "Uh oh! <Athlete Name> just stole your CR" is to want to go out and reclaim what is rightfully yours – to take back YOUR segment by setting a new Course Record.
4. Find the Locals' Secret Routes
Yesterday while spending time in Luxembourg, I wanted to find a route in the area of Ettelbruck, where I was staying. Looked up the segments in the area using the Strava app and found a route just a 5-minute run from my location. The segment was BEAUTIFUL and I would have never found it on my own. Created by local triathlete Tom Peiffer the segment took me from Ettelbruck to Colmar on a narrow country road with nearly no traffic, along a river, through snow-covered fields, passing castles, with a view to the nearby picturesque villages which are so typical for Luxembourg. This would have been a great run just for the location.
Actually I was just lucky in Luxembourg, as Garmin Connect seems to dominate there.
As I write this on the evening of October it's Halloween. Good month, October! All racing is now done and dusted for 2012. There are no more races to even consider going to – not that I did any other than the swim across the fjord in Vejle.
It's a good thing – focus can now go thoroughly to 2013.
There were no holidays in October either, which had an immediate effect on training time. In fact the time trained makes October 2012 the month that I've been able to train the most only second to March 2011.
So with no further ado, here are the highs and lows from October:
Swimming: Cranked up the volume on the swimming again. Didn't improve at all in terms of speed. The distance per session, however, has gone up drastically, so the average speed is the same, but it's maintained for much longer. Plus!
Cycling: Had a few days of unexpected summer and moved outside. Besides that though I've moved inside on the home trainer. That setup is working well and not quite the motivational issue I expected it to be. Every session is roughly 2 hours in heart rate zone 1. Feels very good so far!
Running: Injury is still there, but have done some good work with the physio. Right now, the sessions can be up to 30 minutes at about 6min/km pace. I'm not going out and crushing it, but at least I'm going out running!! Happy about that and hope I can build on that !
For those who care, here are the numbers from September:
Total duration: 26hours, 6 minutes trained – up from 14 hours, 28 minutes in September;
Swim:

8 workouts – up from 5 in September;
Total duration: 6 hours, 38 minutes – up from 2 hours, 27 minutes in September;
SWOLF score stabilized completely at 40 – no improvement;
Average pace: Stuck just above 1:50/100m;
Total distance: 18,97km – up from 7,15km in September.
Bike:

11 workouts – up from 4 workouts in September – combination of 8 home trainer sessions and 3 rides outside;
Total duration: 17 hours, 46 minutes – up from 6 hours, 41 minutes in September;
Average speed: 29,60 km/h – up from 29,54 km/h in September – no speed measured in home trainer sessions;
Total distance: 135km – down from 197km in September.
Run:

4 sessions – down from 10 sessions in September;
Total duration: 1 hours, 41 minutes – down from 5 hours, 19 minutes in September;
Average pace: 5:32 min/km – improved from 5:54 min/km in September;
Total distance: 18,28 km – down from 54,18 km in September.
More numbers next month…
My bike is a modified road bike – a Focus Culebro 2010 with a pair of clip-on bars to make it useful for non-drafting triathlons. Admittedly I've grown increasingly dissatisfied with the decision to purchase a road bike and modify it instead of just buying a pure triathlon bike.
The differences are that the frame of a traditional road bike just doesn't support the time trial position as well as triathlon bikes do. The impact of that is a less efficient position on the road bike versus what you would have on a triathlon bike.
Over the past few months I've repeatedly heard about a bike fitting system from the US by the name of Retül. Not only do they make bike fittings for a bunch of professionals in cycling, MTB, and triathlon – they also apply the same testing protocol to amateurs:
As you start the test, first thing that happens is an interview that helps the fitter understand the goal for the fitting session as well as with the particular sport that the athlete does. Subsequently extensive measurement of the body is carried out. At this point flexibility (or lack thereof) is measured and recorded to identify the possibilities and limitations that the athlete needs to work with.
And now it's time for the big reason to go get a Retül fit: The dynamic fit session. Sensors are placed on shoulders, elbows, hands, hips, quads, knees, ankles, heels, and feet so that when you start cycling, the fitter will have live dynamic data to work with – not just static numbers recorded in a fixed position.
Finally the entire bike is measured – before any changes are made, and after changes have been made. That makes it possible to revert back to the pre-fit position.
If you're buying a new bike, the fit is not done on your old bike or on your potential new bike, for that matter. The fitter is likely to have a fit bike – ideally the Retül Müve. The benefit of the Müve is that it can be adjusted during action, so you can immediately feel the difference and increase the chance you pick a bike that's just right for you! The ability to measure the watts output during the fit session only increases the likelihood that you'll perform at your very best on your newly acquired bike.
Finally, if you're buying a new bike, all this data is used with the frame finder to match your specific requirements with all sorts of frames. That ensures that you avoid spending thousands getting a bike that's just not optimal.
Alternatively, if you're not buying a new bike, now is the time to start making changes to optimize your position on the bike according to your goals.
In my case we changed quite a bit. We went for a shorter stem to reduce the reach to the aerobars – for the same reason the saddle also came as far forward as possible. Finally we lowered the steer just a bit, also to shorten the reach to the bars and to make position my body lower.
At this point – about a month after the test – 15 cycling hours later – I'm still getting used to my new position on the bike.
Two things are for sure, though:
I'm making better use of my current bike!
I will never buy a bike again without doing a dynamic test in advance. Never !
Early September was still very much a holiday month and the second half has been dominated by getting used to new institutions for the kids. As a result the total training time for September is still far from that of July, but still much closer to what I'd like it to be. In fact at about 13 hours it's up there with some of the training months I put in leading up to Challenge Aarhus 2011.
The image to the right is of Vejle Fjord Broen. Actually it fits my last post better, as that's exactly where we crossed the Fjord back in August. Good memories from that race, though. I'll be doing another post on that topic…
Here's the full status from September with a few thoughts for October:
Swimming : Lot less swimming done. Seems I haven't lost or won any speed. Following an early-October VO2 maxtest the focus is now on building base condition;
Running: Injured. Ended up giving my right calf a rest in September. Haven't been running since Septemer 20th and physio and a exercises are both in the works. The plan for October so far is: No runs!
Bike: Pretty happy about my bike progress. Had a Retül bike fit – something I'll elaborate on in another post. In October the bike trainings will move indoor on the home trainer – it's getting too wet and cold outside. More on the home trainer setup at a later stage.
For those who care, here are the numbers:
Total duration: 26 hours, 6 minutes trained – up from 14 hours, 28 minutes in September;
Swim:

8 workouts – up from 5 in August;
Total duration: 6 hours , 38 minutes – up from 2 hours, 27 minutes in September;
SWOLF score stabilized completely at 40 – no improvement;
Average pace: Stuck just above 1:50/100m;
Total distance: 18,97km – up from 7,15km in August.
Bike:

4 workouts – up from 2 workouts in August;
Total duration: 6 hours, 41 minutes – down from 3 hours, 20 minutes in August;
Average speed: 29,54 km/h – down from 30,83 km/h in August;
Total distance: 197 km – up from 103 km in August.
Run:

10 workouts – down from 11 workouts in August;
Total duration: 5 hours, 19 minutes – down from 6 hours, 35 minutes in August;
Average pace: 5:54 min/km – down from 5:32 min/km in August;
Total distance: 54,18 km – down from 71,43 km in August.
More numbers next month…
Over the past few weeks I have gotten rather frustrated trying to find out which pool I could train at and at which times. You may think this is a rather easy task: Just find out when the pool nearest to you is open and go at that time, right?! Not so.
My days tend to change a lot from day to day, so going at the same time every day or week just isn't an option. What IS an option is to go to whichever pool is open in the local area and train there. My local area is Amsterdam and what I've done is this:
Copied all the lap swimming times off of the schedules for the pools in the area;
Put them in a Google Calendar;
Sharing it with you right now.
You can find the end result here: http://swim.thusgaard.com. Let me know if you like it. Or not. And if you think it needs updating.
The second month in the new training regimen was to be immediately disrupted by summer vacation in August+September. As a result the total training time for August is not even close to that of July, but still much, much higher than any previous months in 2012.
It was holiday for half of the month, which makes it a bit difficult for me to pull much out of these numbers. Here's the full status from August with a few thoughts for September:
Swimming pace increased along with swim efficiency = Awesome. Looks like all that time in the pool is paying off slowly. I mainly did so much swimming because Vejle Fjordsvøm was coming up. I went there with family and very much enjoyed the whole experience. Eventually placed 83rd our of 299 male finishers – not too shabby for a non-swimmer and I'm pretty happy about that too!
Finally the shoulder issue I spoke about in the training log for July has disappeared!
Running: Even if I had less run sessions than in July I did run about half an hour more and almost 5km more. Average distance is increasing – that's good!
In addition I further improved my 5K time (by 8 seconds – not much but it all counts) – and I did my first 10K since September 2011. All good progress. Still struggling with a nagging injury in the calf. Hitting myself over the head for being stupid enough to train through it !
Bike: Further improvement of time on distances 20km and 50km. To further improve this I'll get a Retül bike sitting position fit test done in September to see if I can improve the way I sit. Really regret having bought a race bike instead if a pure triathlon bike !
After July I wanted to do a few things in August. Here's how that went:
Running: Haven't done any track work yet.
Continued to use time trials and Strava when running and cycling. The leaderboards are such a motivator !
Swimming: High-elbow pull is working well for me. In fact I think it probably helped take care of the injury in my shoulder. And it made me faster !
Didn't manage to sleep much more…
Didn't get the sports medical test done. It's now scheduled for October.
For those who care, here are the numbers:
Total duration: 15 hours, 53 seconds trained – down from 24 hours, 12 minutes in July;
Swim:

8 workouts – down from 11 in July;
Total duration: 4 hours, 47 minutes – down from 6 hours, 36 minutes in July;
SWOLF score dropped about 2 points from 42 to 40;
Average pace: Increased from just under 2 min/100m to just above 1:50 min/100m;
Total distance: 13,3km – down from 17,15km in July
Bike:

2 workouts – down from 9 workouts in July;
Total duration: 3 hours, 20 minutes – down from 11 hours, 26 minutes in July;
Average speed: 30,83km/h – up from 29,01 km/h in July;
Total distance: 103km – down from 332km in July.
Run:

11 workouts – down from 13 workouts in July;
Total duration: 6 hours, 35 minutes – UP from 6 hours, 9 minutes in July;
Average pace: 5:32 min/km – up from 5:33 min/km in July;
Total distance: 71,43 km – UP from 66,74km in July.
That's it – time to move on.
After the completion of Challenge Aarhus 2011 I had made a conscious decision to slow down training during the second half of the year for personal reasons. Eventually the result was training duration anywhere from a mere 30 minutes to 6 hours per month – 6 hours being a really good month.
Recently that all changed and in July that training duration changed a lot. The result was that all three sports saw a bump in time as did of course total training time.
Here first some numbers:
Total duration: 24 hours, 12 minutes trained;
Swim:

11 workouts;
Total duration: 6 hours, 36 minutes;
SWOLF score dropped about 3 points from 45 to 42;
Average pace: From just over 2 min/100m to just under 2 min/100m;
Total distance: 17,15km
Bike:

9 workouts;
Total duration: 11 hours, 26 minutes;
Average speed: 29,01 km/h;
Average heart rate: down about 12 BPM from June;
Total distance: 332km;
Run:

13 workouts;
Total duration: 6 hours, 9 minutes;
Average pace: 5:33 min/km;
Average hear rate: down about 10 BPM from June;
Total distance: 66,74km
What does all that mean? Not much in itself without knowing what the departure points were. In short I'm happy with July as a training month and the reasons are:
Trained more in July than the all previous months of 2012 combined;
Body is OK, so I can keep this activity level up for now. It's tiring at times, but doing OK. Only slight issues are a slight calf strain at the end of hard running sessions and a shoulder issue, which I'm working out in the pool through improved technique;
Swimming needs to improve. Still have more than 3 minutes down to my best 1,5km time from 2011. Potentially the change in how I train impacts the time negatively (more intervals, more breaks, more slow work to recover+improve technique);
On the Bike things are going fairly well. One hour time, and all distances at 50K and under improved in July. Doing more intervals to improve speed. Using Garmin 910XT to do time trials on fixed routes.
Running is going well. While the average pace is not fine at all, the pace in the intervals is going well, approaching 4 min/km in 1km intervals. That's nice! In addition I ran the best 5K of 2012 at 24:03 – a time that has already been improved in August.
What was new in July?: The volume went up. Used intervals in all three sports. Started using time trials in cycling and will start using for runs as well. Got working on swim technique. Trying out CytoSport Muscle Milk and CytoCarb2 for recovery.
What's new in August:
Considering going to the track once in a while to do some track work, to improve speed and endurannce;
Will start using time trials on runs;
Will continue using Strava when cycling along with Garmin Connect and Endomondo;
Reviewing swimming style to reduce drag. Currently looking into high-elbow-pull;
Considering talking to a sports dietitian for improved health and performance in all areas of life;
Look into the value of improved sleep;
Get a sports medical test done/planned (booked for September – exciting).
OK, I think that's it. Lot's of stuff to do, then. Gotta get moving !
For several years now we have had the option of carrying high-accuracy devices on trainings. In recent years various types of GPS devices have become increasingly popular. Especially among endurance athletes like cyclists, runners, and triathletes. I too have trained with such devices for what must be almost 10 years now – but it is not until today that I've truly discovered the value of using the routes feature.
In short the routes feature of devices enables you to pick a route, copy it to your device and train on the route trying to beat the time of anyone that tried that route prior to you.
Routes features can be found here: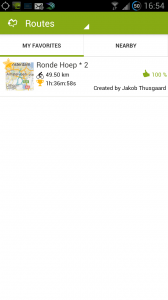 Devices that can be used include:
Garmin's devices, like the Edge-series and the Forerunner-series can be used with Endomondo;
Smartphones, Garmin and other devices can be used with Endomondo, Nike+, Runkeeper and other services.
Some of you may have Polar heart rate  monitors. Those are not included automatically on Endomondo at least. Given my own experience with Polar (which dates back about 10 years), I wouldn't be surprised at all if they try to keep things proprietary.
So, how did I get on today??
Well, first I saved someone else's workout as a course on Garmin Connect. Once that was done, I could easily copy it to my Edge 705 and my 910XT (yes, they both come along for the ride). It was pretty easy to follow the route using the Edge 705 and I'd recommend that, the Garmin Edge 800 or a smartphone to follow the route. Worked really well!!
Especially beautiful is that while you're out racing the route, you can follow exactly how far ahead or behind (in my case) you are.
All done, the route was easily saved in Endomondo once I had uploaded the workout to my profile: http://www.endomondo.com/routes/72761401. Now others can go knock themselves out in order to beat my time.
It's time to get competitive – Have fun !

This morning spotted a Crossfit Endurance (CFE) tweet, which suited my plan for today in the most excellent way. Over the past 13 days I've trained 12 days and start to feel real fitness returning. Time to work a bit on speed without going too fast – without injury. CFE linked to their own blog post that suggests a few options for W.O.D. – Workout Of the Day. For me Thursday is currently a running day and the runs are right now somewhere around 6-8km and 35-45 minutes.
CFE's suggestion was a training with long intervals, going all out for 5, 6, and 7 minutes with 2m30s and 3minutes breaks between intervals. With 10 minutes warm-up and 10 minutes cool-down that pretty much would add up to 43m30s – just what I need.
Did the training and enjoyed the long, hard intervals very  much. Had trouble keeping a high pace, especially in the 7-minute leg of the interval.
Normally I find it a pain to keep track of where I am in an interval like this one, but with the Garmin 910XT (as well as with many other modern heart rate monitors) you can create workouts targeted to what you're going out to do.
I can recommend the workout from today. It certainly wore me out and that was the idea. You can find my workout here: http://connect.garmin.com/splits/198374874